Have you ever wanted to go on an adventure like the character Benjamin Gates in National Treasure? Well now's your chance! Practice your researching, deducing, analyzing and deciphering skills while solving the #socialmediamystery premiering at #rootstech2015.
Think about it, National Treasure is all about #familyhistory. Not only is the source of the Gates family legend an ancestor but the clues lead to many other family discoveries.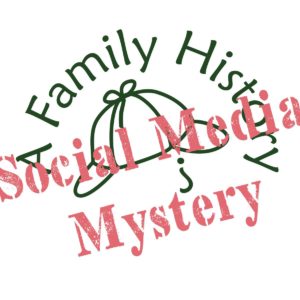 A #SocialMediaMystery is 'A Family History Mystery' with a twist, it's a series of clues posted on social media to be solved by any detectives out there who want to sharpen their sleuthing skills.
All you have to do is follow @afhmystery on your favorite social media (Twitter, Facebook or Instagram), watch for the clues to be posted and then see if you can crack the case!
Family history and genealogy research require detective work which is practiced by the solving of riddles, puzzles, anagrams, ciphers, crossword puzzles and many other forms of mysteries.
Each #socialmediamystery clue will lead you on a quest to discover a word, together the words from each of the clues form a sentence or phrase and the solution to the #socialmediamystery is the original source of the sentence or phrase.
Can you solve the #rootstech2015 #socialmediamystery?